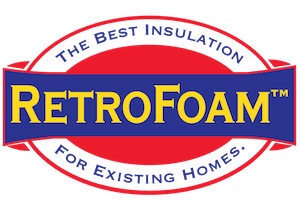 Why RetroFoam
01.

 IT INCREASES YOUR COMFORT IN ALL TYPES OF WEATHER
RetroFoam's R-value (R-value measures insulation effectiveness) reaches a remarkable R-4.6 per inch in winter and R-4.1 per inch in summer. This is the highest annual R-value of any re-insulation option on the market today.
RetroFoam provides homes with 2×4 studs R-values of R-16.0 and R-14.9 for winter and summer, respectively. R-values for homes with 2×6 studs reach R-23.7.
RetroFoam also eliminates drafts by sealing plugs, switches, cracks, and anywhere else air can enter or leave your home.
03.

 SLOWS THE SPREAD OF FIRE

RetroFoam is a non-flammable product. RetroFoam adds safety and value to your home because fires burn more slowly through RetroFoam-filled walls.
05.

KEEPS PESTS OUT, UTILITY DOLLARS IN

Asian Beetles? Spiders? Mice?  RetroFoam is an effective pest barrier. Because it seals cracks and crevices in walls and cement blocks, it helps seal pests OUT and seal IN your energy dollars.
07.

SOUND SOLUTION: DECREASES NOISE

Although RetroFoam is used primarily to save energy, our customers often comment about how quiet their homes become once RetroFoam is installed. RetroFoam reduces noise levels by up to 75%, a 45-50 db reduction on average. Apartment and condominium residents find RetroFoam a great solution for noisy walls.  You may also add RetroFoam to laundry room walls when re-insulating the rest of your home for a marginal up-charge.
02.

YOUR UTILITY COMPANY MAY COVER SOME OF THE COST
Many utility companies are looking to homeowners to increase the energy efficiency of their homes. Schedule an energy audit with your provider to see if you qualify for energy rebates to help with the cost of re-insulating!
04.

SAVES YOU MONEY CONSISTENTLY OVER TIME

Unlike blown-in cellulose or fiberglass, RetroFoam will not settle over time, change shape or breakdown. Your RetroFoam insulation stays in place, particularly at the top of walls where it is most needed. And RetroFoam is not affected by moisture. If the foam gets damp, it always dries and remains 100% effective.

Therefore, the high R-values and insulation effectiveness achieved by RetroFoam continue over time.
06.

EASILY & CONVENIENTLY INSTALLED YEAR ROUND 

RetroFoam installation is an easy process in most types of buildings, typically completed in less than a day. Our installers inject RetroFoam into the wall cavity, so there's no need to tear out walls. Since RetroFoam is installed from the outside in most cases, you do not need to move furniture or clean up the inside of your home. Prepared with special tools, RetroFoam Iowa's installation teams can re-insulate your home whether there is snow on the ground or in the extreme heat of the summer.